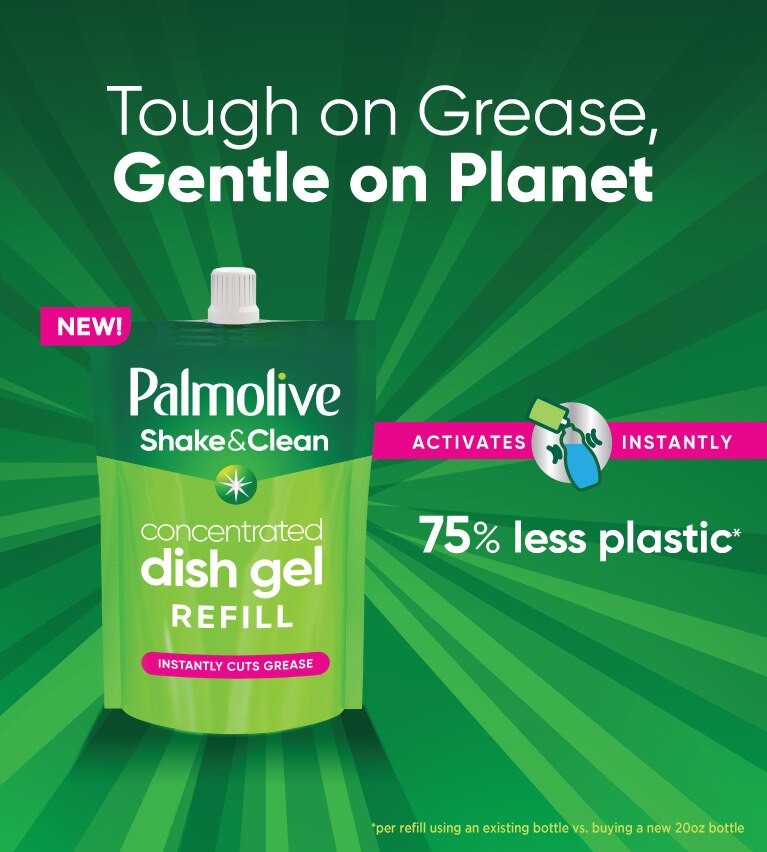 Tough on Grease




Gentle on Planet
Stop throwing away your plastic dish soap bottle and start reusing it with Palmolive Shake & Clean eco friendly dish soap that reduces plastic waste. Packaged in a convenient small pouch, Palmolive Shake & Clean makes it easy to refill and reuse your dish soap bottle in seconds. Just fill your dish soap bottle with water to the line, add the dish soap concentrate gel from the pouch, and shake it for a brand new dish soap bottle! This new, breakthrough 4x concentrated formula activates instantly when you add water to the 5oz gel to yield a new 20oz bottle of soap.

Palmolive Shake & Clean eco friendly dish soap pouches help reduce plastic waste because each individual refill pouch contains 75% less plastic* (when refilling an existing 20oz bottle) than a brand new 20 oz bottle of Palmolive dish soap. The reusable Palmolive bottle is made from 100% recycled plastic and the carton is recyclable. With Palmolive Shake & Clean, we're taking a step towards a zero-waste, plastic-free future and we will continue to improve.
Available in 1pk starter kits and 2pk refill kits

Available in lemon and floral breeze scents
*per refill using an existing bottle vs. buying a new 20oz bottle
With 50+ years of trusted cleaning, you can depend on Palmolive to cut grease on contact and help you clean quickly. As always our family-friendly dishwashing liquid formulas are safe to use with 0% parabens and phosphates and 100% biodegradable cleaning ingredients.
FAQ
A Few Key Questions on Usage
A Few Key Questions on Environmental Impact